New-Factory Direct Tripp Lite SmartOnline/SmartPro Web Communications Management Card (SNMPWEBCARD)
Item Order#: NEW-ACC-MGT-TPL-SNMPWEBCARD
Street Price: $400.00
Sale Price: $324.99
Shipping Weight: 2lb
Our New UPS Systems Are:

Under Full Manufacturer's Warranty
Built for Reliability
Leading Technology
Available from Multiple Shipping Locations
All RefurbUPS.com New-Factory Direct Tripp Lite SmartOnline/SmartPro Web Communications Management Card (SNMPWEBCARD) are...
Brand New
Come With Full Manufacturer's Warranty
In-Stock and Ready for Immediate Shipment
Our Difference is Focus, Experience and Power Protection Expertise
We provide the Best Value for Market Leading Refurbished Power Protection solutions
RefurbUPS is the nation's most trusted source for power protection solutions. We supply more than 10,000 customers nation-wide including today's leading corporations, retailers, government, educational institutions and more.
What is Performance Guaranteed?
Our industry leading, 10 Step Performance Guaranteed process is second to none. It ensures the highest degree of performance and reliability for the power protection solutions we offer.
Fast Same Day Shipping, Large Inventory
We can ship your order immediately - no backorders or delays. Our secure online fulfilment system ensures that your order will be shipped quickly and efficiently, using our specially designed packaging.
You can place, track and manage your account online, 24 hours a day, 7 days a week. Standard shipping times depend on location; we ship out of our facility in New York state, so time to the NY Tristate area is typically 1 day, and may be as long as 6 days to the Pacific Northwest. If you require expedited shipping please call us for special shipping needs, at an additional fee.
To Determine Your Liebert UPS Model Number

Locate your device's white serial sticker.
Note: Serial sticker placement varies and can be located on the front, back, side or bottom of your UPS.
The sticker will look like the following: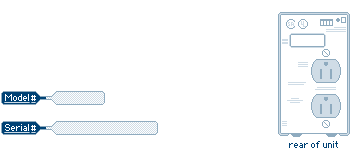 Brand New Tripp Lite SmartOnline/SmartPro Web Communications Management Card (SNMPWEBCARD) designed for use in the following UPS systems
Tripp Lite SmartOnline Series
Tripp Lite SmartPro Series
All Brand New-Factory Direct Tripp Lite UPS Systems and Accessories come with full manufacturer's warranty.
RefurbUPS is an authorized distributor for a full line of brand new Tripp Lite UPS Systems and Battery Modules to offer the best New UPS products at a competitive price to be the Smart Choice for Power Protection Solutions. Allowing us to offer customizable power protection solutions from desktop to 80 kVa. We are proud to provide New UPS Systems for your Power Protection needs when refurbished availablity doesn't meet your needs or you simply need that Manufacturer's Warranty.
Service and Support - 24 Hours a Day, 7 Days a Week
We provide the most extensive online "How To" UPS Battery Replacement Videos, FAQ's and KnowledgeBase to help with support questions and issues. There you can also find UPS manuals and more to help solve any issues you might have. Feel free to call us at (866) 883-9200, send us an email, or use our live chat service.
Customer Focus and Personal Service
We know you have choices, so we focus all of our processes on our valued customers. The better we understand the pressures our customers face, the better we can serve their needs. The RefurbUPS Sales, Customer Service and Support teams will go the extra mile to earn your trust and your business.
We sincerely thank you for the opportunity to be your chosen partner.